Tour in Spain in support of insumisión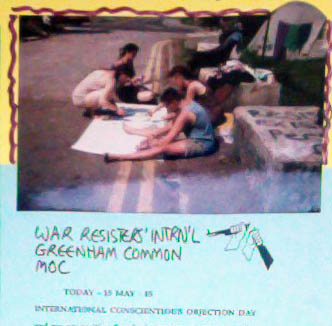 In 1991 Vicky (Vicky!!, Vicky!!, we love you!!) coordinated* the Greenham Tour on behalf of the Grupo de Mujeres Antimilitaristas del MOC (the feminist antimilitarists in the Movement of Conscientious Objection) and with the support of the MOC State Assembly,** which committed to paying for two roundtrip airplane tickets and the posters announcing the tour. The purpose of this month of May 1991 with MOC people in Spain was to allow Greenham and MOC Wimmin to exchange antimilitarist feminist experiences and analyses, to give 30 talks on Greenham in different towns and cities in Spain, and to show Greenham's support to the Insumisión campaign.
Picture 1: Nathalie, Emma, Louisa & michelle at Blue Gate making the Insumisión banner.
Picture 2: Emma & Nathalie, Louisa behind, showing the Insumisión banner: "Greenham ? support insumisión. For an end to the military"
* MOC were mixed groups, but feminist working groups were formed in some of them, to produce feminist analysis connectind feminism and antimilitarism. Unfortunately, it was the time when activists chose not to be personally named, but now we're naming Vicky here because 1. the bank account and contact phone for issues arising from the organization of the Greenham Tour were hers and 2. she was one of the

?

who worked on feminist antimilitarism and was open to international exchange.

**
The Spanish Movement of COs, MOC in Spanish, was a network of independent local or regional antimilitarist groups that agreed on strategies at the national level in their "State Assemblies." Some of these groups were affiliated to War Resisters' International (WRI).
Before that, on a sunny morning (for a change!) at Blue Gate we made a banner in support of the insumisión movement, which we used on May 15, International CO Day, in front of the Spanish embassy in London, with some WRI activists, too. Copy the Press release?
Excerpt from Gaby's "Spanish Tour"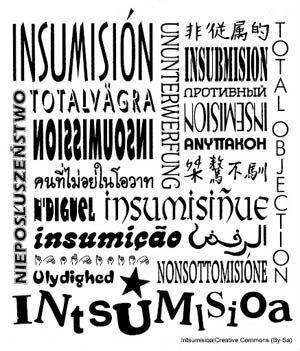 ... We met


interested in antimilitarism in groups in different sizes and numbers, antimilitarist


in Madrid and Barcelona, a big


's group in Barcelona and Bilbao and many feminist groups. In Gijón we went to a


's occupation. The


were sacked and decided to occupy the textile factory they worked in and had been there for a year now doing actions and running for local election. One of the other nice places we visited was Casa Santana in Cantabria, where they run Spanish language courses to help people interested in peace work in Central and South America and Sri Lanka. We would like to thank all the people who organized the tour, put us up, collected us, and translated for us. GABY (From the Greenham Newsletter September 1991 Special 10 Years, p. 4)
Under construction
Some Notes on Some of the Info and Discussions, by michelle